Learn Music From Your Trusted Hometown Music Store
If you are around Hamilton, Ohio or Blue Ash, Ohio and want to learn how to play an instrument, you can get music lessons from Mehas Music. We can also repair and maintain your musical instruments.
The Mehas School of Music
We offer one-on-one music and vocal lessons that build your confidence and improve your musical skills. So whether you just want to have some fun learning guitar or piano, or want to improve your school band experience - we can help!
For over 70 years, we have been one of the area's leading private music educators! With over 600 students and more than 40 qualified instructors, we have one of the largest private music programs in the Greater Cincinnati Tri-State Area.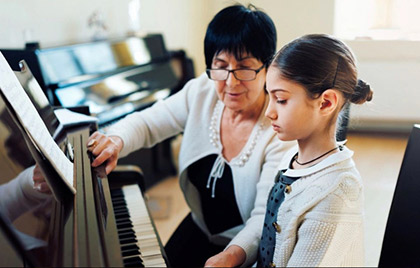 Our Music Lessons
We teach all instruments, all age groups, and all levels of ability. Our one-on-one lessons are very resonably priced at just $28 for a private 1/2 hour session.
Lessons are available Monday thru Thursday from 12 PM until 9 PM, and every Saturday from 10 AM to 5 PM.
Are you in need of an instrument? We can help you pick out that perfect first guitar, ukulele, banjo, drum set, saxophone, trumpet - YOU NAME IT - we are a true FULL-LINE music store!
Do you have your own instrument and want to make sure it is "lesson ready"? We have a full-service instrument repair and set-up shop - and can get you ROCKIN' in no time at all!
Unsure if our program is right for you? - ask us about taking a trial lesson.